As an industry leader in residential and commercial property repair throughout NYC and Northern New Jersey, interest in Nail It Handyman continues to grow. Their team of expert handymen focuses on the installations, repairs, and maintenance that makes homes and offices a pleasure to be in.
While Nail It Handyman has run a successful operation since 2016, not having a detailed system of record to keep track of their increasing volume of leads caused a number of challenges. Partnering with Dijy has equipped Nail It Handyman with the knowledge and tools to grow better.
The Challenge
Nail It Handyman had a manual process for managing inbound inquiries that became increasingly inefficient over time.
"New leads, emails, voicemails, everything would arrive in one inbox," said Jacob Guttman, CEO of Nail It Handyman. "We didn't know which of the 100 or 200 new messages in our inbox was a new lead or an urgent concern or for customer service."
To differentiate between inquiries, the team at Nail It Handyman had to go through each item in the single inbox, one by one. This labor-intensive process caused the company to miss opportunities for new revenue and lose work with existing clients.

"We didn't get to our leads and customer service requests quickly enough, and we didn't follow up as we should have," said Jacob.
Nail It Handyman needed help making their inbound inquiry process more efficient in order to improve internal organization and better serve their customers.
The Solution
In early 2020, Nail It Handyman partnered with Dijy, seeking an automated solution that could better manage the inbound inquiries.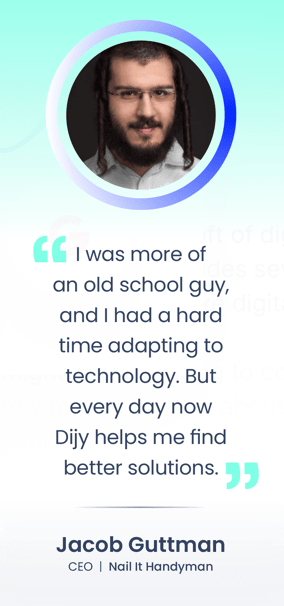 Dijy immediately set up and integrated a customer relationship management (CRM) system that proved transformative to Nail It Handyman.
"Now, customer service things go into one pile, new jobs into a different pile, and so on and so forth," said Jacob. "We can focus on the most important things first." The CRM system automates the process of sorting through the inbox and delivers inquiries to the correct team, saving the internal team time and making managing prospects and clients easier.
Dijy's CRM integration has proved so successful that in less than six months, Nail It Handyman has been able to cut overhead costs by 40 percent and triple sales.
"When we look at the outcome, we're more productive," said Jacob.
"We go home getting more accomplished in less time."
The results
3x Sales revenue in less than six months
Internal staff reduced by 40%
Customer communication improved due to better automation


---
---
---
---
---
---
Ready to find out how a personalized automated solution can transform your business' growth? We'd love to hear from you!